RAIN's Outstanding Agency Awards 
Agency Awards Nominations Handout
Agency Awards Purpose for Hyperlinking
Nominations:
As part of the LGBTQ+ community, please provide detailed feedback about how the agency you are nominating encourages a safe, diverse, and inclusive workplace. The more information you can provide, the better.

Although the first few questions require a response, your name and agency information will be redacted before the selection process begins.

RAIN recommends the distribution of the RAIN Outstanding Agency Award nomination form to all Washington State employees for opportunity to nominate employers (teams, programs, divisions, administrations, etc.) who have done an outstanding job of creating a safe, welcoming, and inclusive environment for LGBTQ+ employees. A nominating employee will complete the prompts on the form and submit it to RAIN during the nomination period (15 June - 1 August). The nomination review committee will score all nominations and the top three
Background
In 2016, Governor Inslee established Directive 16-11 to create a safe, diverse, and inclusive workplace for LGBTQ employees and customers. Several agencies have led the way in this work, and the RAIN Best Practices subcommittee has developed an agency award to recognize those entities. In developing nomination questions and scoring criteria, the RAIN Best Practices subcommittee has evaluated award nomination processes created by others, including the Agency of the Year Award given by the Veterans Employee Resource Group (VERG). They used research to create the nomination form and their process. The RAIN Outstanding Agency Award shines a spotlight on agencies that have worked diligently to make Washington State an Employer of Choice for LGBTQ+ individuals.
Purpose of the Award
This award has been created by RAIN to recognize state agencies (or specific programs within the agency) who have created/improved the safe, welcoming, and inclusive environment for LGBTQ+ employees. This award is specifically to recognize the impact on employees and is not a reflection of the services provided by agencies to their constituents (it is our belief if there is a positive impact on employees, service delivery will also be positively impacted). Furthermore, an award received is meant to highlight the efforts of the agency, it is not an all-encompassing compliment of the agency. We all have work to do, the award is about effort, not perfection. As programs receive the RAIN Outstanding Agency Award, they will be recognized for the hard work they are doing on behalf of their employees. Agencies will look to you as a role  model and resource to assist in the creation of their initiatives to improve the LGBTQ+ employee experience.
---
Congratulations to the 2023 winners and nominees!
Winners:
Washington Department of Licensing

Washington State Parks

Washington Office of the Corrections Ombuds
Nominees:
Employment Security Department

Health Care Authority

Department of Natural Resources

Office of the Insurance Commissioner

Department of Ecology
Award Ceremony
When: Oct. 19, 2023 from 2 to 4 p.m.
Speakers: 
Jasper and Taja Blackhorn (RAIN Co-Chairs)
Manny Santiago (RAIN Executive Sponsor/ LGBTQ+ Commission, Executive Director)
Megan Matthews (Office of Equity, Executive Director)
Winning Agency Acceptance Speeches
We highly encourage you to celebrate this year's award in-person, we will have cake and refreshments, as well as networking time. If you cannot make it in-person, we will also have a virtual hybrid option to join. 
Email rain@ofm.wa.gov if in need of accommodations. 
---
Past Agency Awards
Oct 20, 2022
Congratulations to the 2022 winners and nominees!
Winners:
Eastern Washington University - Student Affairs

Department of Social and Health Services - Economic Services Administration

Department of Enterprise Services - Buildings and Grounds
Nominees:
Employment Security Department
Department of Health

Department of Services for the Blind- Orientation and Training Program

Department of Enterprise Services- Washington Enterprise Services

Department of Licensing

Department of Ecology

Department of Children, Youth, and Families
Image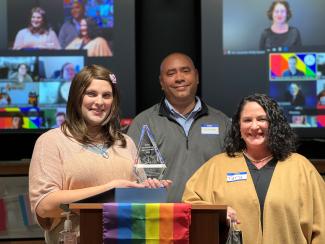 Oct. 22, 2021 
Outstanding Agency Awards: Congratulations to this year's RAIN Outstanding Agency Award winners! 
Every year, Washington state employees nominate agencies that have led the way in work to help create a safe and inclusive environment for LGTBQ+ employees. Nominations highlight specific changes in policies, practices, and culture that each agency has done to promote LGTBQ+ awareness and inclusivity. These awards are so special because the nominations come from employees within the agency that appreciate and recognize the work being done agency wide. We celebrate and thank all the nominated agencies for the work they are doing!
The 2021 Agency Awards Ceremony was on Oct. 21, 2021 during our October general membership meeting.