Legislative Representatives
Claire Wilson
Senator (D-30)
She/her/hers
Claire Wilson's legislative work has built on her 25 years at the Puget Sound Educational Services District, where she was an administrator in early education and family involvement. Prior to that, Claire taught pregnant and parenting teens at Mt. Tahoma High School and was a senior grants and contracts manager for the City of Seattle's teen parent programs.
Elected to the Senate in 2018, Claire quickly rose to the ranks of Senate leadership as Assistant Majority Whip — one of two lawmakers responsible for knowing whether key legislative proposals have the support to pass out of the Senate and when it makes the most sense to call them to the floor for a vote.
As vice chair of the Senate Early Learning & K-12 Education Committee, Claire's extensive experience with education and families has informed a wide range of legislation. She has sponsored numerous bills to improve academic success by expanding access to childcare for teen parents attending high school and eligibility to the Early Childhood Education and Assistance Program (ECEAP). Her most ambitious legislation to date has been the Early Care and Education Act — a comprehensive vision of how to most effectively and efficiently coordinate the multitude of services available to help students succeed during their critical early years. Claire also authored legislation that requires the comprehensive, medically accurate sexual health education curriculum currently available in most school districts to be offered to students in all districts.
In addition to her legislative roles, Claire serves on the Task Force on Improving Institutional Education Programs and Outcomes, whose focus is to improve the coordination and delivery of education services to youth involved with the juvenile justice system, and the Washington State Leadership Board (formerly the Association of Washington Generals). The board operates Washington World Fellows, a study abroad and college readiness fellowship program, and collaborates with the lieutenant governor to administer Boundless Washington, a statewide program that integrates fun, challenging outdoor activities with leadership development training for young people with disabilities, and the Legislative Youth Advisory Council made up of young people between the ages of 14 and 18 to examine issues of importance to youth.
Claire also serves on the Senate Transportation Committee, where provides a voice for the considerable transportation concerns in her district, and the Senate Human Services, Reentry & Rehabilitation Committee, whose focus frequently involves alternative and continuing education for adults. During the 2020 legislative session at the request of the state Attorney General, Claire sponsored legislation ending the use of solitary confinement as punishment for youth as well as a bill providing post-secondary education opportunities in the Department of Corrections to lower recidivism.
Throughout her career, Claire has volunteered and served on numerous organizations and boards including the PTA, Citizens for Federal Way Schools, the Building Better Futures Board, the Advisory Board of the Washington Family Engagement Trust, and The Sidekick Collective.
Claire identifies as a lesbian woman and mother, and is one of seven LGBTQ lawmakers in the Washington State Legislature. A longtime resident of the 30th Legislative District, she has lived in South King County since 1999. Her district includes Federal Way, Algona, Pacific, Milton, Des Moines and Auburn.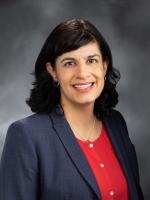 Nicole Macri
Representative (D-43)
She/her/hers
Nicole Macri was elected to the Washington House of Representatives in 2016, and represents the 43rd legislative district of Washington, which includes the Seattle neighborhoods of Downtown, First Hill, Capitol Hill, Madison Valley, Madison Park, Montlake, University District, Ravenna, Wallingford, Fremont and Phinney Ridge.
She serves as vice chair of the Healthcare and Wellness Committee and is a member of the Appropriations and Finance Committees. She is also a member of the Washington State LGBTQ Caucus.
Nicole has more than 20 years of experience championing progressive causes on issues around affordable housing, homelessness, human services, and mental health. She has been at the forefront of the Housing First movement nationally, and is a recognized leader in practical and effective strategies that end the homelessness of people living with serious disabilities.
Outside the Legislature, Nicole is the Deputy Director for the Downtown Emergency Service Center (DESC) in Seattle, where she has worked since 2002. She has championed Seattle's Housing Levy, and was appointed by the City Council to serve successive terms as a member of the Housing Levy Oversight Committee. In 2014, she received an Emerging Leader Award from the Housing Development Consortium of Seattle/King County for her outstanding work in the field of affordable housing, and recently received the 2017 Inclusion Award from the Seattle Commission for People with Disabilities for her work towards improving the lives of disabled Seattleites. Nicole was selected by the Milbank Memorial Fund and the Reforming State Group to participate in the 2017-18 Emerging Leaders Program, which brings together legislators and other statewide leaders from across the nation to strengthen their skills in effective health policy formation and implementation. She was also awarded the "Friend of Cities" award in 2017 and 2018 by the Association of Washington Cities.
Nicole holds Bachelor of Arts from Rutgers University and a Master of Public Administration from the University of Washington, and completed a Certificate in Executive Leadership at Seattle University's Albers School of Business. She lives with her partner, Deb Cayz, in the Capitol Hill neighborhood of Seattle.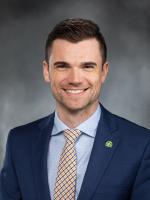 Skyler Rude
Representative (R-16)
He/him/his
In 2019, Skyler was sworn in as a state representative for the 16th Legislative District, which includes all of Columbia, Walla Walla and parts of Benton and Franklin counties.
Born, raised and educated in Walla Walla, Skyler has spent his adulthood finding ways to serve his community. Since 2015, he has worked as College Place Senator Maureen Walsh's legislative assistant. During his time in that position, he learned to navigate the legislative process and worked on issues that directly affected residents of the 16th District.
Previous to his time in the Legislature, Skyler worked as a personal property and casualty insurance agent and spent several years in telecommunications.
He has also served on the Walla Walla Parks and Recreation Advisory Board and Washington State Senate staff task force dedicated to forming sexual harassment and discrimination policies.
In addition to his legislative committees, Skyler serves on the following bipartisan committees: Legislative Evaluation and Accountability Program Committee, Joint Higher Education Committee, Joint Task Force on Community and Technical College Counselors, the Capitol Furnishings Preservation Committee, the LGBTQ Commission, the Sentencing Guidelines Commission, the Columbia Basin College EMS Program Advisory Committee, and the National Conference of State Legislature's Nuclear Legislative Working Group.