Image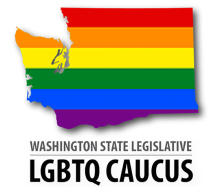 The LGBTQ Commission identifies legislative priorities annually and works with our Legislative Advisors and other legislators to advance bills that expand the rights of the community. 
The current legislative priorities for 2020-21 identified by the Commission are:
Gender markers and access to health plans

Adoption and foster care system (protections for LGBTQ children)

Guidelines for collecting demographic data by government agencies

Reclassification of certain "elective" surgeries for trans people

Issues affecting intersex people, especially surgery for intersex children

LGBTQ affordable housing, with focus on older adults

Certification of LGBTQ-owned businesses as minority-owned

Protections and competent services for incarcerated trans individuals

Access and affordability for PrEP, access for younger people

LGBTQ-inclusive history curricula in schools

Decriminalization of sex work
---
The LGBTQ and ally community in Washington has several ways to be involved in advocating for issues that are important to us. Here are some tools you can use:
Contact Your Legislator
Find Your Legislator: Enter your address to find your current legislative and congressional district.
Legislative Hotline: 1-800-562-6000 (TTY for Hearing Impaired 1-800-635-9993). Callers to the Hotline can leave a brief message for their district legislators, Governor or Lt. Governor on issues of concern or on questions they may have about bills or laws. For non-English speaking callers, the Hotline offers interpreter services for many languages.
E-mail: Click a legislator's name to go to the e-mail form for that legislator
Visiting the Legislature: Information about directions, parking, Capitol Campus activities and events, and tours.
Bill Information