Image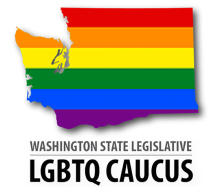 The LGBTQ Commission identifies legislative priorities annually and works with our Legislative Advisors and other legislators to advance bills that expand the rights of the community. 
The current bills being monitored for 2022-22 so far are:
Prescription drug affordability board

Medicaid coverage of HIV drugs

Possession of vapor, vapor products, tobacco, and tobacco products by minors (large percentage of LGBTQ+ youth affected)

Keeping Department of Children, Youth, and Families working through an equity lens

Decriminalization of sex work

Increasing access to infertility treatment

Increasing diversity, equity, and mental health at community and technical colleges

Preserving abortion care rights  
---
The LGBTQ and ally community in Washington has several ways to be involved in advocating for issues that are important to us. Here are some tools you can use:
Contact Your Legislator
Find Your Legislator: Enter your address to find your current legislative and congressional district.
Legislative Hotline: 1-800-562-6000 (TTY for Hearing Impaired 1-800-635-9993). Callers to the Hotline can leave a brief message for their district legislators, Governor or Lt. Governor on issues of concern or on questions they may have about bills or laws. For non-English speaking callers, the Hotline offers interpreter services for many languages.
E-mail: Click a legislator's name to go to the e-mail form for that legislator
Visiting the Legislature: Information about directions, parking, Capitol Campus activities and events, and tours.
Bill Information