Staff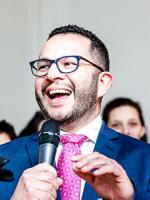 J Manny Santiago, Executive Director
He/She/They/Él/Ella
J. Manny Santiago was appointed by Governor Jay Inslee as Executive Director of the Washington State LGBTQ Commission in August 2019.
Born and raised in a coffee farm in Puerto Rico, Manny has been involved in social justice work form a young age. Before his appointment, Manny served as Executive Director of Rainbow Center, Tacoma/Pierce County's LGBTQ community center. He received his undergraduate degree in Sociology from the University of Puerto Rico, studied Public Administration at the Catholic University of Puerto Rico, and has a Master in Divinity (Theology) degree from Andover Newton Theological School in Massachusetts.
In 2007, Manny became the first openly queer Latino to be ordained a minister in the American Baptist Churches, USA. Since then, he has served progressive congregations in Boston, MA, New York, NY, and Seattle, WA. While in Washington, he was part of the marriage equality campaign and the campaign to ban conversion therapy in the state, and was frequently invited to speak at public hearings at the state Legislature. In 2011, The Huffington Post listed Manny as one of the "Most Inspiring LGBTQ Religious Leaders in the USA." He served as the Executive Director of The Crossing, a progressive and ecumenical campus ministry serving the students at the University of Wisconsin – Madison before returning to Washington. He also often teaches courses on religion, ethics, and theology at different institutions of higher education throughout the USA and Latin America.
Manny is frequently invited to speak and to lead workshops on issues of social activism, progressive faith, LGBTQ+ rights, Latinx rights, and their intersectionality. He served on the Religious Advisory Council for the Human Rights Campaign, has been involved with the sanctuary movement in the USA, served on the Multicultural Advisory Committee for Tacoma Community College, and as a mentor with Palmer Scholars and the Jane's Leadership Fellowship of the Russell Family Foundation and the Washington Immigrant Solidarity Network. He currently serves his community as a member of the Board of Directors of Tacoma Community House, the Board of Trustees for Tacoma Community College, the Board of Trustees of the Tacoma Public Library, and the Board of Trustees of the Tacoma Art Museum. At the international level, he has been invited to lead workshops and speak on LGBTQ+ rights by organizations in Cuba, Honduras, Panamá, México, El Salvador, and Canada. His writings have been featured by The Huffington Post, The Washington Post, and several theological journals and books.
Manny currently lives in the ancient lands of the Puyallup people in the city of Tacoma with his husband Ferneli Hernández, a member of the Yucatec Maya people of southern México. In his free time, Manny enjoys traveling, cooking, hiking, and reading works by Latin American women writers.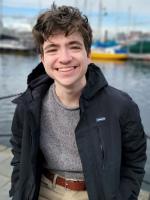 Sawyer Tuttle, Executive Assistant
They/Them
Sawyer Tuttle, they/them, just graduated from Washington State University Vancouver with a major in Anthropology and a minor in Political Science. They recently completed an internship with the Washington State Senate where they were introduced to the LGBTQ+ Commission, and they are very excited to continue their involvement in state government through this new role. Outside of work, they enjoy board and video games, live music and spending time with their partner, Ally, and their two cats.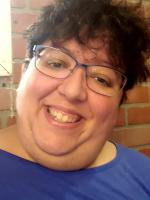 Tracey Carlos, Program Manager
she/her/they/them
Tracey Carlos is a political activist/photographer. She is a pragmatic progressive demisexual/aromantic lesbian who has lived in several parts of the United States. Tracey graduated from the University of Central Florida with a bachelor's degree in history that focused on the Middle East, Europe and the United States. Soon after moving to Olympia in 2010, she got a job working for the state where she felt could do the most good on a daily basis with her customer service background. She has worked at the Employment Security Department as an Unemployment Insurance Specialist and most recently at the Department of Labor and Industries as a Claims Processor.
When Governor Inslee started the RAIN LGBTQ Business Resource Group Tracey joined right away. She served with RAIN as the Communications and Outreach subcommittee chair where she helped create the RAIN quarterly newsletter. After COVID-19 she stepped down as chair as her job at L&I got busier but continues as the editor of the newsletter.
Tracey also joined the board of directors at the nonprofit Partners in Prevention Education in 2017 and was the board's secretary for several years. She also founded a LGBTQ constituency caucus group for Thurston County in 2019. She currently is a commissioner on the Olympia Planning Commission. In her spare time, she attends various political rallies, fundraisers, and forums as a photographer to help causes she believes in.