Happy Pride Month! June 2022
We had a great 2022 Pride! See you next year!
RAIN Pride Month Virtual Panel and Celebration June 16 
Join RAIN in celebration Pride Month on June 16 RAIN is joined by leaders in state government to discuss LGBTQ+ issues, their personal journies through state government, finding and helping others find belonging in the community while at work, and increasing LGBTQ+ inclusivity. Followed by membership mingle time to celebrate pride from 4 to 4:30. Please email rain@ofm.wa.gov for accomodation requests. This event will not be recorded. 
Image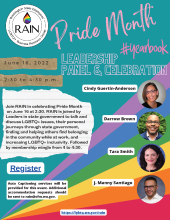 RAIN Pride Month Toolkit 
This year's Pride Month toolkit features a new compact digital layout. The toolkit is a carefully curated list of resources for state agencies to use and celebrate during their Pride Month activities. Brought to you by the RAIN Best Practices Subcommittee!
Image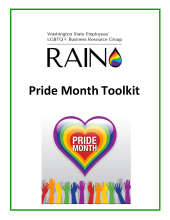 -- RAIN Pride Month Schedule of Events --
June 1 - Pride Month Special Edition Email
June 4 - Olympia Capital City Pride - Join Us!  (In-Person)
               Location: Port Plaza
               701 Columbia St NW, Olympia, WA 98501
               June 4th, 2022 - 11:30 a.m. to 6:30 p.m.
               It's a Fun Fun Fun SaturGay affair!
June 14 - DEI Summit - ANHPI Panel on Intersectionality and Belonging
June 16 - RAIN Pride Month Panel and Celebration - 2:30 to 4:30 p.m.
June 21 - Capital Pride Flag Raising Event - at 12:15 p.m. (In-Person)
June 28 - DEI Summit - Allyship Panel: Transforming our Future Together
June 30 - LLN and RAIN Pride Month Panel on Latino/a/x Indentities
July 9 - Tacoma Pride Festival - Join Us! (In-Person)
Federal Way Pride Events - All month long and beyond! - Join Us!
Looking for more Pride Month Resources?
See our Resources Page for Virtual backgrounds, RAIN brochures, RAIN digital signs for the office, and much more!