RAIN 2023 Pride Month Statement
Our community is experiencing an unusually violent attack centered in erasing transgender and gender diverse people. Although bouts of violence against 2SLGTBQ+ are unfortunately, not uncommon, the recent violent attacks against the community through physical, psychological, and legislative acts come after many decades of small victories for the community. This is one reason why, as a community, we need to be intentional in creating spaces of healing.

Pride Month is a time to celebrate the 2SLGBTQ+ community and honor the progress made in the fight for equality. It's also a time for community healing and self-care. This means recognizing the struggles and injustices faced by the 2SLGBTQ+ community, while also taking time to prioritize our mental and emotional well-being. This year RAIN is going to shift our focus away from educating others in the state enterprise and "focus in" on our community through events and activities for 2SLGBTQ+ employees and allies. RAIN will provide spaces for our members where they can connect with others that have shared lived experiences, talk about their personal stories, and find support in one another.

Please respect our decision to focus on our community this year, encourage your 2SLGBTQ+ employees to attend, and give space for them to take this time for themselves. Let's continue to celebrate and uplift the 2SLGBTQ+ community, while also prioritizing self-care and healing.
Sponsored Events:
Capitol Pride Flag Raising
Date and Time: Thursday June 1 at 12:00 pm
Location: Capitol Building, Olympia, WA

RAIN Joins Spokane Pride
Date: Friday June 9th and Saturday June 10th
 
Image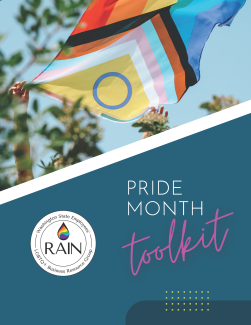 Image
Looking for more Pride Month Resources?
See our Resources Page for Virtual backgrounds, RAIN brochures, RAIN digital signs for the office, and much more!